Amazon Enterprise proprietary technology
Fredda.® has been specifically developed to help big brands make better decisions based on data. We structure both the brand's data (API + own tech) and that of the competition and the different competitive environments to be quick in strategy and decision-making, improving sales, positioning, efficiency, and obtaining insights applicable to the business.
We make available to brands an expert team in consulting and execution of each part of the business that will help you understand your data and make the best decisions to reach your goals.
Fredda more important functionalities:
Retail analytics
Sell Out & Sell In + Brand Analytics
Inventory Health
Lost COGs
PO evolution
Seller Central
Product Content Analysis
Content Analysis Fredda Scoring
Product Optimization Evolution
Retail Ready tracker
Content Analysis – Trends
Content Analysis – Products & Averages
Brand catalogue optimization overview
Competition content quality
Market benchmark & SEO spy•Product Listing Analysis
Fredda scoring and evolution
SEO optimizations
Retail Ready analysis
Keyword density
Optimizations tracking and logs
Media counts
Images, A+, Brand Story, Videos & Spin
Title, Bullet points & description monitoring
Global brand reputation
Total Product ratings
Product reviews
Daily Clients review evolution
Global products tracked
Total keywords tracked
New ASINS and keywords over time
Keywords ranking
Keywords not ranking
SEO keyword ranking distribution
SEO product ranking trends
SEO tracking history
SEO project product ranking
Daily changes
Competition benchmarks
SEO project tracking
Category organic results & reverse analysis
Keywords tracked: ranked & not ranked
Today's product keyword ranking distribution
Daily changes
Product keyword ranking history
Product keyword ranking distribution – Last 14 Days
Product rating trends
Third party sellers reputation & monitoring
Customer questions & answers
Total Products Tracked
Products Below RRP
Total Sellers & New Sellers
Sellers Below RRP & Sellers
Buy Box Analysis
Buy Box Discount evolution
Category Discount Analysis
Category Discount Distribution
Discounted Products – Trending
Product Availability and average discount
Pricing Analysis by categories
Reputation Analysis by categories
Product rating trends
Customer reviews tracking & analysis
Third party sellers reputation & monitoring
Competition reputation & market benchmark
Competition pricing & market benchmark
Product Price History
Pricing Tracker (Seller, RRP Avrg, Price Range)
Total sellers and price monitoring
Buy Box Tracker evolution
Product pricing trends
Third party sellers pricing & buybox
Advertising Dashboard
Week by week report
Main advertising KPIs
Advertising Mix Report
Advertising Spend
Advertising Sales
Performance Metrics
Efficiency Metrics
Awareness Metrics
Top campaigns
Main KPIs
Report tabs
Interactive chart
Sales estimations
Ranking Monitoring
And more….
Market Sahre tool (Paid + Organic)
Market Share Business Intelligence Dashboard Example
One of the most widespread needs of large brands is to try to know, understand and be able to measure the evolution of market share as they do in traditional offline retail. For this reason, together with major brands, we have developed a powerful tool that allows us to measure market share both by categories, rankings, keywords, and searches, both from organic results, advertising, and in an aggregated way.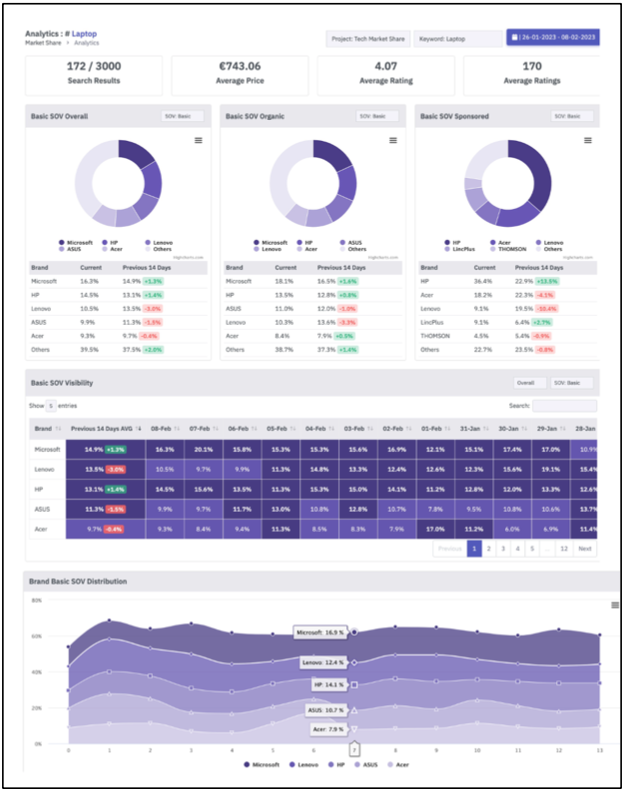 Market intelligent analyzed by Brand or by ASIN (unlimited granularity)
Market Share: organic results + sponsored products (advertising)
Organic Market Share: organic results
Share of Voice: Sponsored Ads (advertising)
Share of voice Placements: Sponsored Ads – top 3, middle page, …
Market share evolution by categories, search terms, or aggregates v Competition analysis and benchmarking:
Content optimizations
Price evolution
SEO evolution + keyword density variations
Review evolution
Rankings variations
Advertising monitoring
Stock estimation
Sellers and variations
Stock availability
Promotions, coupons and other campaigns
New products launching
Custom reports: Price > Advertising campaigns > Promotions > Sales rank